Discover what works for your body and cells
Think about when you take your car into the shop for an inspection. In order to examine the condition of the car, the mechanic opens the hood, checks the fluids, and inspects the working components.
Quantum Zone analysis is the same idea, except instead of examining your engine oil level or testing the battery life "looking under the hood" and understanding what areas you need to improve on in order to achieve a healthy body composition and functions you will look and feel so much better!  The Quantum Wellness Functional Health Assessment is designed to get you started on your road to optimal health and a better life
In just 15 – 60 minutes, you'll unlock your path to personalized nutrition and better health.
Functional Health Assessment method is based on an innovative procedure and on H.S.D.T complex equipment which determines the state and activity of the internal organs and systems by measuring electrical conductivity in certain biologically active points and zones (organs such as the heart, lungs, liver, eyes, etc.; systems such as the respiratory system, genitourinary system, motoric system, etc.).
It is absolutely non-invasive and doesn't use Radiation or Ultrasound. You don't need to wait days or months for your results. Results are available immediately.
The Functional Health Assessment is all about you, your health goals, and the life you want to live.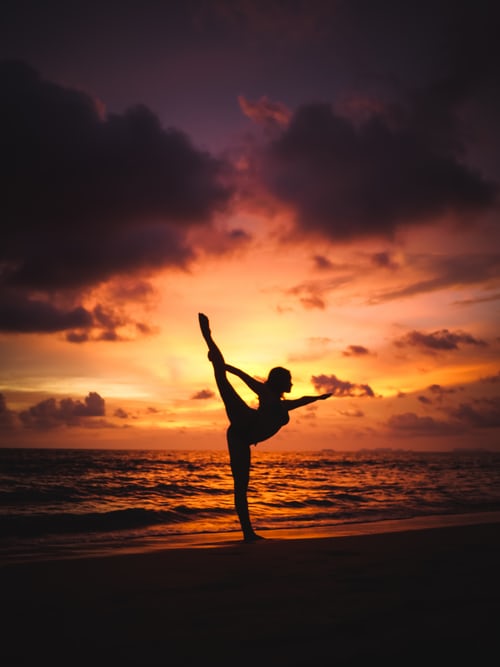 It is a fact that common diagnostic methods reveal a problem when it has long been present and when surgical intervention is often required. For this reason, in addition to the usual diagnostic methods, we can offer a completely new technology that can detect the problem at an energetic and functional level well before the onset of symptoms.
With innovative software to evaluate the optimal diet for each person, we can create a 100% individualized nutrition program and even design foods and supplements.
By scanning the energy and functional state of the organism, it is now possible for each client to create completely individual treatments and therapies that will eliminate the causes of their problem with the ability to monitor, evaluate and even predict the efficacy of treatment or therapy.
HEALTH IS  IN YOUR HANDS.
The prerequisite of any therapy is diagnostics, which is able to find answers to key questions when it comes to health. Quantum Wellness Club members have several levels of diagnostics at their disposal, depending on the programs clients choose
Is your lifestyle slowly wearing you down? Is the way you live conducive to your physical, mental, and emotional health, or are you making it hard on yourself? Your diet, exercise habits and daily routines have a huge impact on your overall wellness. Find out if your lifestyle needs to be redesigned in the name of personal peace and health with this tests. Choose your health goal…
Body composition analysis
Body composition is a method of describing what the body is made of. It includes fat, protein, minerals and body water. It also describes weight more accurately than BMI. Body composition analysis can accurately show changes in fat mass, muscle mass, and body fat percentage. This can help validate services like personal training, patient care, and corporate wellness.
Body Mass Index (BMI) is a common method used to assess the health of an individual by comparing the amount of weight they carry to the height of the individual. In its most basic sense, BMI may be useful for identifying those who are at an increased health risk as a result of excess fat accumulation.
Despite the widespread use of BMI in clinical practice, BMI has many limitations and is a poor tracking tool for weight change because there's no way to identify if changes in your weight are in fat or muscle. That's because BMI is calculated simply by dividing a person's weight in kilograms by their height: BMI = kg/m2 
Predicting health or mortality using a single number such as BMI oversimplifies health risks and ignores important factors that contribute to positive health.
Newer technologies are able to separate body weight into specific components that can be examined separately, like DSM-BIA.
Focus on body fat percentage instead
As you move away from BMI, you should focus on the percentage of body fat you have at your weight. At Nutree, we call this PBF (percent body fat).
There is no consensus on what the best body fat level for health (the amount of fat storage that maximizes health by minimizing risk for adverse health states/conditions) is for the general population.
The normal body fat range provided by InBody is set at 10-20% for males (15% as ideal) and 18-28% for females (23% as ideal).
finds the silent processes in your body.
By completing the Quantum Wellness Health Assessment, you'll receive three customized reports: one identifies your top health risk factors; another maps out a recommended lifestyle plan that identifies ways you can improve your health; and the third provides you with individualized nutrition recommendations based on your specific Assessment answers.
If you're worried about your health, ideally you should see your doctor about it. But what if you feel perfectly healthy and just want to know if you're at risk of getting sick? An online health test could be a good place to start.
There are many screening and diagnostic tests available on the internet, as well as apps for mobile devices. But as with all things on the internet, not everything is an accurate source of information (see our Guide to online health advice).
How healthy are you?
By answering the following questions you will obtain some lifestyle information and advice based on your answers. More info…

Home testing,
for a healthier you. More info…
This test gives detailed information concerning the health of body's systems. This complex form of bio-impedance testing can often reveal suspicious  patterns before symptoms are manifest. 
Smart Health Assessment is a cutting-edge health assessment that provides you with a personalized approach to measuring your health and offers real-life solutions to help you improve your lifestyle and nutrition. 
The program involves the functional assessment of 65 organs and few different functional tests and analyzes. Among other things:
BRS – Functional ranking by 65 organs
BRS – Energy Level Assessment.
BRS – Toxicity Assessment.
BRS – Assessment of optimal nutrition
BRS – Evaluation of optimal products for detoxification and supplementation.
SCAN REVEALS:
Energy blockages: identify energy blockages in the body and energy channels, as well as the strength of the energy produced by various systems and organs
Nutritional Issues: highlight challenges in absorption and metabolic processes and intolerance to certain foods.
Environmental Toxins sensitivities: detect environmental factors, toxic metals and chemicals and EMFs and the body's ability to handle their impact when present.
It is absolutely non-invasive and doesn't use Radiation or Ultrasound. You don't need to wait days or months for your results. Results are available immediately. Based on your Assessment we will recommend you the easiest and the most effective natural solution for your problem. You will get immediate answer to your health problems and immediate solutions, whether it concerns your energy, heart and cardiovascular system, thyroid function, digestive system, immune system or weight problem. Now you will have a clear map to your Health and only YOU will be in control of your Health, nobody else.
Look at the whole picture for root causes of disease
GET TO THE ROOTS OF YOUR HEALTH CHALLENGES Finds the root causes of your health problems. Quantum Zone uses state of the art testing equipment, screening tools and functional pathololgy testing.  These can pinpoint even slight imbalances in your biochemistry which can lead to suboptimal health, chronic illness and degenerative disease.  
Report based on a scan of 47 organs and systems in your body.
This report will tell you a multitude of things about your health such as:
· the efficacy of medicines you are takin;g
· any food intolerances you may be suffering from;
· * if any cosmetics you are using are causing you allergies
 And much more for instance: parasites, viruses and bacteria which may be causing you problems. Life Balance then treats these issues.

EXPRESS SCAN measures all parameters and, by using a computer software, sends data to a fat server via the Internet. The server compares data with more than one million various parameters and forwards the result that can be printed out, if necessary. Reports are provided as colorful graphics: CHARTS, SPINE and ADAPTOMETRY demonstrating a physiological state of your organs and systems.
 
EXPRESS SCAN FEATURES
 
–  Full Body Scan
– Selection of drugs and products through the container
– Selection of drugs through a virtual container (the database is constantly updated)
– Automatic composition of an individual complex for Life Balance device
 
Types of reports:
 
Diagram of the state of 47 organs and systems, the ability to compare diagrams
Presumptive parasitic germs
Vertebra
Aura of patient( auragramma)
Chakras
Do not waste time! You have an exceptional chance to monitor your body and protect yourself from disease due to timely diagnosis of the body!
An incredible diagnostic and evaluation system that utilizes resonance quantum physics and resonance phenomena to identify all dysfunctions and underlying causes, and create a unique program of treatment that best suits the individual patient. 
The Expert health assesment  is a comprehensive, accurate, painless, non-invasive, with NO radiation test for finding out what is really going on inside the body. This test gives correct, detailed information concerning the health of body's systems. Finds the root causes of your health problems. This complex form of B.R testing can often reveal suspicious  patterns before symptoms are manifest. It also monitors the before & after treatment comparisons. 
FULL-BODY (65 organs)  SCANS, REPORT,
EXPERT ANALYSIS AND RECOMMENDATION  
SECOND OPINIONS AFTER A DIAGNOSIS 
Choose your health goal…
Advanced Health Assessment and Differential Diagnosis services:
FUNCTIONAL FORENSICS 10 BODIES 
BRS FUNCTIONAL FORENSICS 65 BODIES 
EPD ASTER COMPLETE ANALYSIS AND ASSESSMENT  
EPD BEST COMPLETE ANALYSIS AND ASSESSMENT 
Our current health care system has sometimes been criticized for addressing the symptoms of various diseases as opposed to treating the root cause.  And many bright minds have tried to find root causes of diseases since the beginning of time. While many brilliant discoveries have been made, root causes of diseases are often multifold and complex, and what exactly the root cause is may vary, depending on who you ask!
If you have a heart condition, a cardiologist may utilize procedures involving catheters and stents in your heart to address the cause of your problems and improve blood flow. The internist will tell you that you have too many cardiac risk factors, that your blood pressure and cholesterol are too high and that your diabetes needs to be better controlled. The nutritionist will teach you how to eat more balanced meals instead of the junk food that's causing your weight issues. An alternative practitioner might recommend chelation therapy to dissolve calcium in your blocked arteries, while the acupuncturist will tell you that your yin and yang are out of balance. The list goes on. Each practitioner specializes in his or her own particular area and gets paid for his or her specific type of service. So as health care consumers, let us try to take a step back and look at the big picture. Let's take an objective look at "root causes," and determine the factors that may be contributing to our health problems. 
This chart by Humana provides a starting point, highlighting some of the key factors that are known to influence a person's health: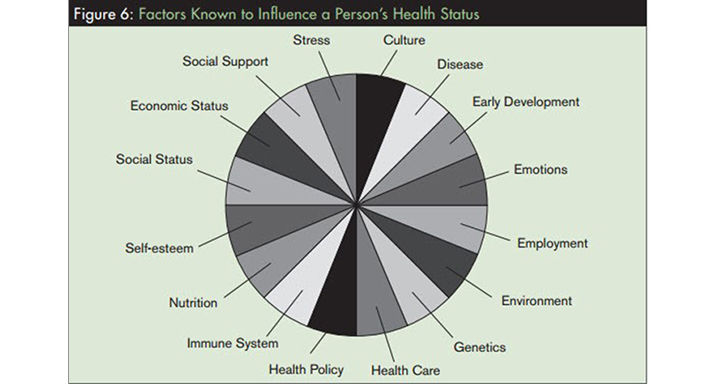 Chart: Humana Corporate
Our pH health care professionals have also compiled a list of common root causes of disease:
Enjoy Your Healthy Life!
The pH professional health care team includes recognized experts from a variety of health care and related disciplines, including physicians, attorneys, nutritionists, nurses and certified fitness instructors. This team also includes the members of the pH Medical Advisory Board, which constantly monitors all pH programs, products and services. To learn more about the pH Medical Advisory Board, click here.
The Full Body screening is a comprehensive, accurate, painless, non-invasive, with NO radiation test for finding out what is really going on inside the body. This test gives correct, detailed information concerning the health of body's systems. This complex form of bio-impedance testing can often reveal suspicious  patterns before symptoms are manifest. It also monitors the before & after treatment comparisons. More info…
The key to lifelong health lies in disease prevention and health maintenance, and the key to prevention is assessment. To provide you with a health plan that is tailored to your needs, we need to understand the true condition of your body, both internally and externally. We do this through the use of cutting-edge non-invasive diagnostic tests and examinations to get a whole in-depth picture of your health, genetics, environment and lifestyle.
Hardware and software diagnostic complex (HSDC-complex)
Hardware and software diagnostic complex (HSDC-complex) analyzes the body and gives the diagnosis of the physical (funkctional and energy) condition and its needs prior to the treatment itself. During the treatment, using bio-resonce principles, self-correcting body mechanisms are being stimulated, which result in superb therapeutic effects. The device uses sensors attached to the computer, and intuitive software guides the therapist through each part of the treatment step by step.